USE ANY DEVICE TO TALK (SMARTPHONE, DESK PHONE, COMPUTER)
All you need to do is log in. Simplifi Lines requires no on-site setup and has all the essential voice, VoIP features (and then some), and analytics your business needs to thrive in our dynamic and hyper-competitive world.
KEY FEATURES: Custom call routing (Auto-attendant, queues, hours), single extension across multiple devices (phone/web/desk/softphone).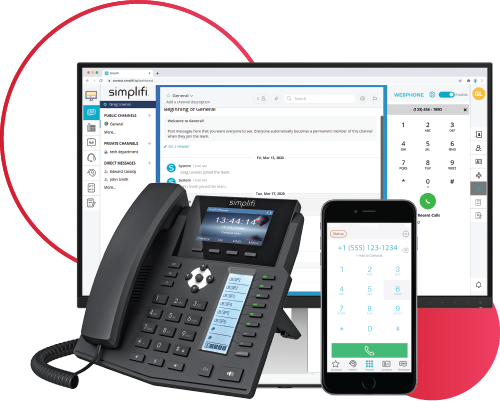 HOW IT WORKS

Simplifi Lines blends all modes of voice communication into one easy-to-use VoIP ecosystem. Receive inbound calls on your fixed line and cordless desk phones, from the Simplifi Scout app, or within the Simplifi Station dashboard using one unique extension for each user. Make sure your team never misses an important customer call.
VoIP Anywhere • Seamless Voice From Anywhere • Enterprise PBX • Browser-Based Calling • Endpoint Agnostic • 100% Remote Set-Up
NO-BRAINER MANAGEMENT & VOICE FEATURES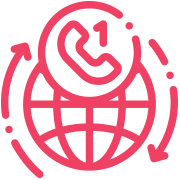 SINGLE EXTENSION
Seamlessly communicate with clients from any device (desk phone, smartphone, computer) using one single extension.

AUTO-ATTENDANT
Create, record, and manage an automated greeting with call flow instructions easily with Simplifi Lines account settings.

CALL QUEUES & HOURS
Call queue management and business hour routing are simple and accessible anytime you need to make a change.

CALL RECORDING
Make call recording standard for archiving conversations or reviewing for quality control and customer experience.

VOICEMAIL TO EMAIL
Automatically send all voicemail messages to your email so you have access to important messages from anywhere.

VACATION SETTINGS
Set up vacation and holiday call settings so even if you're away, every customer gets through when they need help.
Ready for Your Team to Communicate Faster and More Efficiently?
Then what are you waiting for?
Schedule a personalized demo today and we'll walk you through everything you want to know about how Simplifi will enable your business to grow with honestly simple technology solutions.