WHY DOES 4G/5G FIXED WIRELESS MATTER?
From enabling IoT to cutting-edge VR and AR technologies to simply meeting the demand from our work-from-anywhere world, our 4G/5G fixed wireless enterprise LTE router will drive the future of connectivity.
Featuring: 5G Sub6 + mmwave
A 4G/5G WIFI ROUTER WITH FAILOVER BUILT-IN MEANS ZERO LOST REVENUE AND AMAZING CUSTOMER SERVICE.
Add a Simplifi Connect router to your existing network or run it as your primary connection, the choice is yours. Either way, having a failover solution built-in is a no-brainer. Plus, installation is so simple anyone can handle it. Businesses of all shapes and sizes will benefit from a failover solution like Simplifi.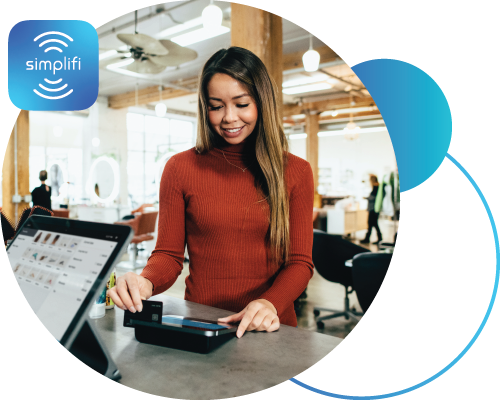 HOW IT WORKS: SURPRISINGLY SIMPLE NETWORK DEPLOYMENT.

MANAGE YOUR ENTIRE NETWORK FROM ANYWHERE
From desktop to mobile, you can manage your entire network from anywhere you need to work. Change settings for a router located across the globe or just around the corner. We've made it simple to manage the devices your business needs when you deploy the Simplifi suite of products.
Perfect Software for Any Company. Our firm is a start-up, with limited resources locally (head office in Europe). The Simplifi team made it seamless for us to have a sophisticated phone software, which meets all of our needs, at a great and reasonable price. Highly recommended to all firms - big or small!
Simplifi is a great system for desks, remote employee, and employees on the go. Cost effective too, we are saving hundreds a month! Customer service from planning to implementation to ongoing needs is excellent.
Simplifi is a great option if you only want to carry one phone but need to have a separate business line. Easy to set up easy to use. Easy to tell my business line is ringing vs my personal line. Voicemail also goes to my email which is a great timesaver. Customer Service is really fast at getting back to you with any questions.